I like to travel but I hate travelling. Everyone hates travelling. If you ask someone and they say otherwise, they are simply confused and think you meant Travel. If you correct them and say you were talking about the act of travelling, and yet they hold firm and say they enjoy it, they are goons and you should cut them out of your life. Because this would mean one of two things, 1. They still don't understand the question or 2. They actually like travelling. Either way you will be better off without them.
To travel is to open yourself up to new experiences and cultures. And if you're Irish, it also affords you a chance to see what the sun looks like. Being well-travelled is always a good thing. What you know to be the norm may not in fact be the very best of what's out there. I'm looking at you America and Cork.
When people ask about your trip you reminisce happily about your experiences: the people you met, the landscapes you saw, the food you ate, the weather you enjoyed. What you do not talk about fondly is getting there. From packing the night before you left home, to the bus that brought you to the hotel, the whole ordeal is full of the challenges that I imagine make good endurance runners: the ability to suffer and push through to achieve your goal. Travelling is an exercise in tolerating discomfort. A test of will.
The best thing about any journey is the arrival. A scare or hardship along the way is only good for an interesting anecdote, which there is nothing wrong with. Remember, I said travel is good. The hardship is part of the package deal, and it builds character, but as it's happening you will not like it. Take climbing Everest for example. That last bit of half dead zombie march you must endure, in the charmingly named Death Zone, is the bit you will talk about in the pub when you get home. But as it's happening, you're just trying to survive.
Holiday Destination Tip – Don't go to Everest. It has a Death Zone, and although it looks sunny, it's actually quite cold.
Who fondly remembers family holidays? We all have some happy memories of childhoods spent abroad or in the country side. Now, who fondly remembers the journey the family made together, in a little car, or in a little airplane? Nobody does. Why? Because it was a shit show. No, a clusterfuck wrapped in a shit show, dipped in liquid despair, sprinkled with anxiety and wide-eyed mania, and then set on fire. You know this, because now you have kids, and you are well acquainted with the faff that goes into organising them into the car to go down the road on a Sunday to get to the Zoo. Once you're on the road you're mostly thinking "these animals better bring their fucking A Game today after the hassle it took to get organised…"
Day Out Destination Tip – The Zoo is full of sleepy, bored animals. Ensure your kids get a good show by bringing along some fireworks and setting them off in the enclosures.
Let's take a look at the 3 main forms of mass transit, and why your time on them is the worst time you will have.
Boats
The Journey – I've never been on a cruise, but I'm not sure it's for me. More than the captivity, the fact that you are essentially on a relatively small floating city, surrounded by the same people all day every day. You have to be polite to them. Those people with who end up befriending you, and you have nowhere to run. What if you get horribly drunk (as far as I am concerned the number one daily exercise to which I would dedicate myself) and the next day you have these new acquaintances tell you what you did, and point and laugh? Worse still, you actually tell them what you think of them? What's acceptable on a cruise? How far can you push things? How drunk is too drunk? Could they throw you off the boat at the next port? Could they throw you in the boat prison? Is there a boat prison???
Then there are storms and waves. Neither are friends of the traveller. You've got sea sickness and there is no escape, because, you know, you chose to go to sea for a holiday. Oh but you get to do stop offs in lots of different cities on your journey. Brilliant. Remember to be back on the boat by leaving time. Your stop off in any city is like some sort of horrible game show –
          "Quick quick, we've got to see the museum, the market and those famous statues….Hurry up for God's sake….What time is it? Is it boat time? We have to be back long before the boat leaves…Is that the museum? IS IT?! It's NOT?!? Oh for fuck sake John…Now we're miles away from the market….The famous statues? The map says they are miles away. Fuck. No No, we don't have time…We're going back to the port and waiting for the boat…I said we're going back! Stop Crying for God's sake. We're on fucking holiday".
And you go back. Waiting by the boat, afraid they will leave you in some foreign land, and you're back stuck with a gaggle of similarly worried idiots, to whom you are tethered for the duration of your "holiday".
 The Danger – Huge danger. It's the sea for Christ sake. God knows how deep it is. And imagine how cold that water is?! There be monsters in those waters. Monsters that can eat you whole. Whole! Also the sea actively tries to get you. If you look over the side of the boat at the passing waves, the water beckons you to her. People are warned about being hypnotised into jumping overboard. Seriously, that's a thing.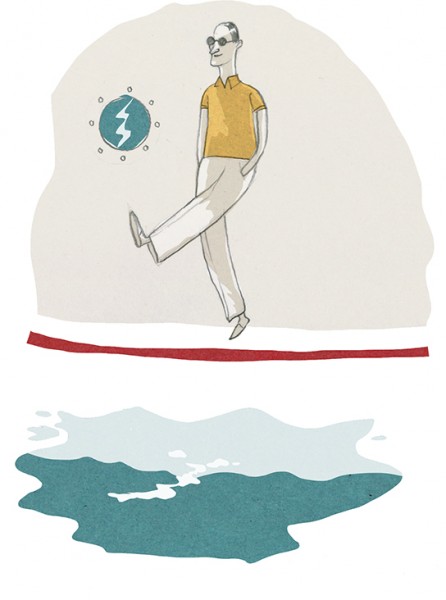 Cars
The Journey – "Road Trip!" No other expression of excitement and anticipation sets you up for a bigger fall. There's four of you in the car, but with all the luggage, those in the back have to organise their seats within a delicately constructed architecture of bags and equipment. Your initial exuberance slowly dies as the chat dwindles and the freeway affords you with the same monotonous vista. Mile after mile of concrete and featureless landscape passes you by and sleep begins its seduction.
I've driven to Vegas from LA before. It's a journey of about 4 to 5 hours. The scenery is initially otherworldly, barren desert and far off mountain ranges. But then, it's still barren desert and distant mountain ranges. The conversation evaporates, and from your initial excitement, you are simply killing time.
Worse still is the journey home. With all your hedonistic debauched reveling behind you, the trip home is an ordeal for all concerned. Normal life awaits you, and you need some "me time". But before that, you once again have to squeeze yourself into the vehicle and endure. Undoubtedly every member of your party is in some form of alcohol related distress. The collective mood is grim, and no amount of awesome road trip playlists will soothe your battered soul. Are we there yet?
The Danger – Even though statistically this is the most dangerous mode of travel, I think it is the safest. This is primarily because I can see both the road and the driver. I can interact with the driver and warn him of things he has not seen. The biggest danger here is falling asleep. Someone has to stay awake with the driver. Windows are rolled down to blast life into the car, and although the driver apologises and explains why this must be done, you hate him for his weakness, as well as ruining your own chance for a sleep. How's about a flat tyre that demands you unpack the overloaded car to get at the spare. Oh and here comes the rain…
Planes
The Journey – You begin your journey hoping your taxi arrives on time, to arrive on time for the airport, to have enough time to stand in a security queue, in order to have enough time to get to your departure gate. It's a fucking nightmare from beginning to end. Do you have your passport? Where is it? There's very few places where nerves are more frayed than in an airport. Regular mild-mannered people regularly have roaring matches with indifferent airline representatives who expect these types of exchanges every day. Quick, check your passport again.
It's also one of the few places where I'm afraid of being arrested. Well more than usual. Is there something weird in my bag that I forgot about? I'm terrified to fly, and am self medicated from the time I get into the building, never mind the plane. Because of this I have to pretend to be sober, like you did with your folks when you were 15, over enunciating to mask your drunkenness.
          Here is my ticket my good man, and I believe everything is very much in order. How's about you? Splendid. I guess I'll get on the plane now, because I'm just a normal business man. Nothing weird going on here at all. Good Day Sir.
 So you queue, you wait, you suffer delays and lost luggage and… Wait, where is my passport? When you finally get on the plane they make you walk through 1st class as a tease. Put first class down the back, or on a separate plane, or do not scold me for deliberately hitting 1st class assholes with my unwieldy carry on luggage.
The seats are too small, you invariably sit beside some halfwit who is intent on stealing your arm rest away from your elbow which had already planted his flag. The food is astronaut grade foil wrapped gruel. The red wine is freezing. You've seen all the inflight movies, and you asked for more wine ages ago. Where is that flight attendant? Don't you avoid me you peasant. I paid a hell of a lot of money to suffer through this.
You might have to catch a connecting flight in somewhere like Heathrow, which means running/walking about 7 miles and worrying about being in time. Again. You might have to sit in your seat as the plane is delayed. Fury builds inside every passenger, apart from that one asshole who falls asleep the second his arse hits the seat.
Despite what you might think, I do not have a problem with babies crying on a plane. If you do, you are a small-minded savage, and an horrific human being. Spare a thought for the parents, who have been dreading this leg of their Holiday for weeks, because of course the baby will cry. It's a baby. How do you think I feel sitting beside your suit wearing self as you work on your spreadsheets like you are some sort of captain of industry. You're a fucking sales rep. Look sideways at that baby again and I'll deliberately go Nuclear Drunk and "help" with your spreadsheet.
The Danger – You're over 30,000 feet in the air in a metal tube flying at 500 mph. You can't get off once the journey starts. The fall would kill you. The lack of air and the temperature outside the plane would kill you. There's a team of people in place to tell you what you can and can't do. You're practically sitting on top of one and other. What could possibly go wrong?
Add to that terrorists, accidentally leaving that little bit of weed you forgot about in your bag, bird strike, lunatic pilots, Diehard 2 villains hijacking air traffic control, terrorists, plane rage, air marshals with guns, bits of the plane falling off, wheels needed for landing jamming, terrorists, the magic that makes the plane actually fly wearing off, the wind, lightning, dragons, other planes, a mountain with a sneaky cloud cover attack, and of course snakes and I think we can all agree nobody should ever enjoy flying.
Basically I'm just killing time until someone invents teleportation that doesn't turn me into a half fly half man monster.