I was dreaming. It was one of those "now I'm doing this…wait, now I'm over here" dreams. What turned out to be the final scene took place in the familiar environs of my bathroom at home. For a dream, that's about as exotic as setting a Bond movie final showdown in Scotland. Yes that actually happened, in that Bond movie that should have been called Home Alone – Bond & His Granny Edition.
Anyway, it gets worse: I was sitting on the toilet. Again, this is a dream where I could be flying or saving the world. Nope. So I look around and on the wall, feet away from me, is a spider. A big spider. Nightmare big. I seem to remember thinking, in the dream, that it was the same size, in girth and legspan, as one of those chunky wooden high end clothes hangers.
I was frozen to the spot. I must have been in the middle of something, as I chose to finish what I was doing, moving as little as possible, all the while not taking my eyes off the giant spider. My plan was all about stealth. The beast remained motionless. I was hoping I could get out without anything happening. But I needed to keep my eye on it.
It was so big I remember it had a face. Not a people face, but a spider under a microscope face. Its jaw, tusks(?) scars, beard, and its freaky clusters of dead eyes all staring at me. Then something happened, and for a split second I looked away. When I looked back at the wall, the spider had vanished.
In my dream I screamed and jumped up, which segued seamlessly into real life, with me catapulting myself forward in bed and screaming myself awake.
That turned out to be the highlight of the day. I lay back down, began to relax, and waited for the morning report to begin.
The morning report is standard operating procedure the morning after a booze filled night. It's a basic timeline of the events of the night before, and is presented to the senior members of the brain council. A representative from The Department Of Memory reads his report and answers any questions the council may have.
At 19.00 hours word came down from The Decisions Department that a motion was passed to begin house drinking. Reasons given were: no work the following day, there was lots of sport to watch and, and I quote, "Why the fuck not?"
Sport was watched. What? No Sir, we do not remember any of the scores. One of the games was NFL, and we believe one of the teams was wearing a blue helmet with some sort of mouse or hamster logo, but we cannot be 100% sure about that one.
 The drink of choice was vodka, soda and limes. While our records only go up to four drinks, we suggest that The Mechanics Department count the lime slices most likely still in the glass this morning for a more accurate number on this.
 There was a phone call from LA taken around the 22.00 mark. The contact there was in the process of ordering from In N' Out. Word quickly spread to The Hunger Department who demanded food once the phone call ended. We believe that they instructed Mechanics to make toast, which I believe was covered in peanut butter. I'm sorry Sir? Oh, we know for sure that one slice was eaten, but I'm being told that there could have been as many as, and again I quote, "all of the toast" eaten over the course of the next few hours.
 We do know that while the sport remained on the TV, He began to watch various YouTube clips and TV shows. What Sir? Well we believe he watched many "Bullies Getting Owned" videos, but we will have to check the history for a full listing.
 There are as yet unsubstantiated reports of listening to Heavy Metal and talking loudly to the computer about how good certain guitar solos were. Sir? At a guess, I'd have to say Steve Vai Sir.
 Finally we have reason to believe that something may have angered him at some point. Again this is not verified, but we are picking up a lot of chatter from the pit of the stomach which is in turn being sent for enhanced interrogation in The Anxiety Department.
 We know he has form in this. Need I remind the council of that one night when he spent hours emailing back and forth with some awful movie critic from New York because he didn't like her review of Gran Torino? Well Sir, he wrote a 3 page critique of her review and sent it to her. She in turn emailed him back defending herself, and then he critiqued her defence of her critique, and so on and so forth. It could have gotten much uglier than it actually did as he seemed to think that the wine was adding flourishes to his writing style. Sir? No it was not.
 There could be something about Cork. No Sir, the place in Ireland. I know, he has been known to lock horns with their proud natives. We don't have much to go on, just the word Cork. But we don't know what set him off.
 The rest of the night is anyone's guess, but yes, I would check Facebook, Email and Twitter first thing. You're welcome Sir.
So I got up. There were lots of limes in the glass. Several more in the bin. The pounding in my head confirmed the count. I sat down at the computer and for some reason I had 17 Facebook notifications. It would appear the report had been correct.
Sometime during the night I left a rant on Facebook about Cork.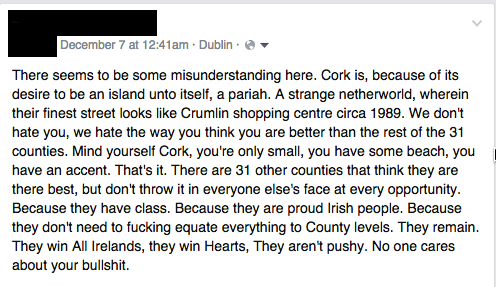 Harsh, but for drunk at 12.41am, I'm happy with the spelling.
Of course very few of the responses were from well wishers. The posts left in the comments section were as expected, proudly defending the unique beauty of their beloved city.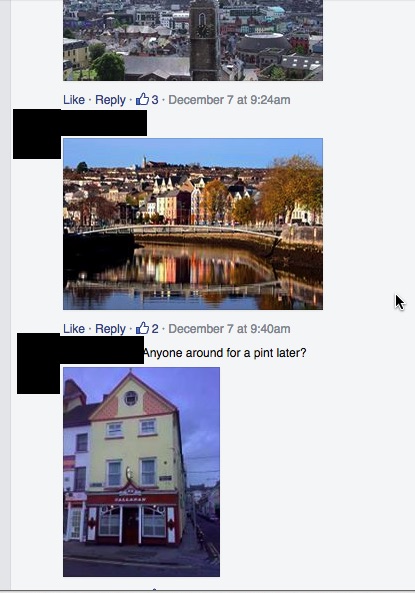 Gaze Upon Cork!
One other fiercely proud Corkonian went a more direct approach, and admirably blunderbussed me with no less than 15 separate wordless images of Cork flags.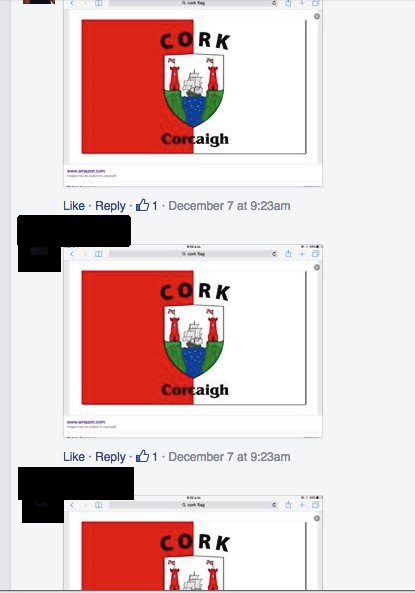 Note – Each one of the 15 flag posts was also individually liked.
I've now been targeted with a daily Cork flag post in my timeline as a continued punishment for my outburst. The will and discipline needed to do this, if I'm being honest, is impressive.
But I couldn't figure out why. Why would I have simply blown up like that? I appeared to have been having a good time. Then by chance I met a cousin, from Cork, who figured he found the red flag, as it were.
Now those of you not from Ireland will know I don't generally like to limit my references simply to this Island, so in this instance you'll need a little background.
Cork is one of 32 counties on the Island. It situated in the South West of Ireland, boasts some excellent coastal scenery, has a large population, and simply being from there is the defining characteristic of every Cork person. They are Cork first, and Irish second. Think of them as the Texas of Ireland, but instead of everything being bigger in Texas, everything is simply better in Cork. The rain is probably less wet in Cork than everywhere else. Cork cats are as big as dogs, their beer is better, their tea is not just better, but THE best in the world, they produce the best sports people, no one farts, there's no crime, and anything they are proven to be no good at they simply dismiss by explaining it means nothing to them. You get the picture.
As you can imagine this is a trait that rubs the rest of the country up the wrong way. They refer to their county as "the real capital", consistently call themselves "the rebel county", and in a particularly modern American trait that always goes over well, frequently call Cork "the best place in Ireland". Many of them do this even more so when they live and work in other counties. So for anyone not from Cork, this chest thumping can get a little irksome.
So there's the background. My cousin pointed out to me that another Cork relative commented on a picture of my mother on Facebook. She was pictured in a studio with a radio host, having just done an interview to mark her retirement. An emotional affair for all involved. The comment simply trumpeted the fact that it was great that she was wearing a red coat to show her support of Cork. This sort of comment is common place, with the colour red being of course being patented by a Cork man in 1836, and as such would usually merit a tut and one would simply carry on computering.
Not so at 12.41am after house drinking since 7pm, it would appear…
Later that day, after dealing with the, in fairness, warranted online backlash, I needed to go to the shop to get supplies. I dressed as one who is grossly hungover dresses to go to the shop on a cold day: without a care in the world for fashion. My face had that droop eyed, open mouthed undead quality common to spectacular hangovers, and what I was wearing was simply a collection of the warmest clothes close to hand, thrown on in no particular order.
As I went to cross the road, a car pulled up in front of me, window rolled down, and a grinning young man addressed me:
"Excuse me, are you a member of the travelling community?"
"………….What? No…"
"It's just, you look like you are".
He stayed there, grinning like the most loathsome human I would ever meet, waiting for a comeback, but my brain was way too slow. Liquors had weakened me, and so all I could muster was to call him "a prick" and slope off into the gloom.
It would be good if he had been from Cork, the Karmic energy of the Universe tying things up in a neat little bow, but he wasn't. However his girlfriend in the passenger seat didn't say a thing, and I like to think she was, putting him up to it using wicked Cork magic to enthrall him…
So what's the moral of the story? Don't drink? Don't slag Cork? Don't go outdoors looking like an extra from The Walking Dead? Always have a comeback ready for smart mouth punk-ass kids? Carry a gun? Always take note of licence plates for revenge purposes? Don't let where you're from define you? We're all human, except for the grinning fool who tries to goad you?
Nope. It is simply the realisation that the person who comes up with a Facebook app that can instantly detect the amount of alcohol in your system, which in turn automatically shuts down your computer, will be a millionaire.
Get inventing Nerds.
I'll be happy with a 10%* cut.
*None of which will be spent in Cork.