I managed to get my hands on this document from the offices of Ryanair. It's pretty obvious that it's a first draft, nevertheless it's a great insight into their new pre flight safety demonstration policy.
Dear Passenger,
As you know we here at Ryanair wish to make air travel as affordable, comfortable and efficient as possible, for you people, our customers. To that end, we are in the process of streamlining our service once again, and we have realised that our trolley dollys air stewards are providing you with a free service are not using their time efficiently when demonstrating the pre flight safety instructions.
To put it bluntly we have to train them, which costs us money, which you know we hate, plus nobody ever looks at them inanyways. So we have decided to shit can the whole charade phase out the demonstrations by January 1st 2017.
In their place we have put a picture containing diagrams of all the pertinent information on the back of every seat in our airplanes aeroplanes planes.
Below is an annotated guide through these helpful diagrams, which can be downloaded on our site if you can find the page for €3.50

EMERGENCY OXYGEN
In the event of an emergency 4 oxygen masks will fall from the roof of the plane. Now this is very important: 3 of these oxygen masks contain poison. You must choose the Yellow one. This one alone contains the oxygen.
NOT THE GREY ONE!!! That one is full of poison.
Ok so put they yellow thing on your face, covering whichever parts of you do your breathing. Once you've got it secured just lie back and enjoy the chaos and screaming all around you. The oxygen will keep you alert until the plane explodes.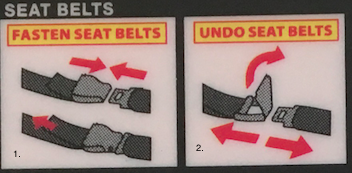 SEAT BELTS
Seriously, we have to go through this? Alright. Look the skinny bit goes into the fatter bit. Oh and speaking of fatter bits, if you are small enough to squeeze into our tiny seats, but all the squeezing means the rest of your fatness (flanks and back belly) squishes around to your front and you can't use the seatbelt, because it's for regular people? Don't fear. Just ask for an extender belt and one of our air stewards will get you one, while making sure everyone on the plane knows what's going on.
Just figure it out. Honestly, you people.

     LIFE VESTS
First off, put your pizza away in the overhead pizza rack.
Your life vest will come in a crisp packet, located under your seat, or the seat if front of you. Whichever is handiest.
Do not put it on your head. It is not meant to hang from your ears, no matter how comfortable this may seem.
Good. I know, it's called a vest but it's really more of a life waistcoat. Admire yourself in your snazzy new yellow waistcoat as you secure the belt. Don't even dare ask us how to sort out your belt.
If you have a pipe, now's a good time to spark it up. The plane is already on fire, so no worries.
Finally, in order to make yourself known to rescue workers and your fellow passengers, you'll have to make noise. Bite the fingers on your left hand. Hard. This will cause you to scream in pain, and the rescue workers will easily find you. If you run out of fingers simply move on to your other hand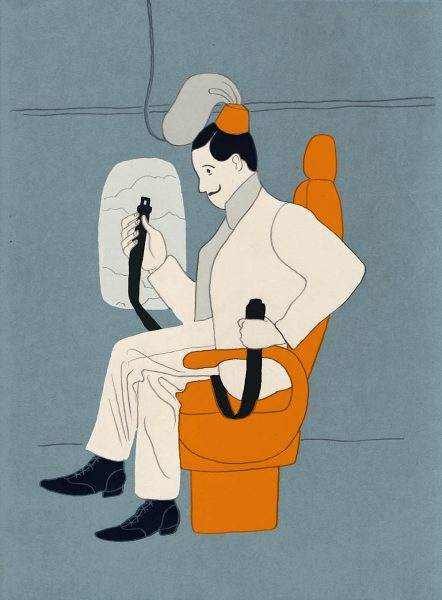 INFANT FLOTATION
There's nothing worse than an infant who sinks. So we've made these little rubber floaties for your little ones. Put your child into the centre of the floaty. One will magically appear at the first sign of trouble.
Use the lassoo provided to harness your child to the device. Your child will be frozen in fear, so this should be easy enough.
In order to allay your child's terror, play a little ditty on the red recorder attached to the device. Chances are this won't help, but it'll bring a little levity to the chaos.
Force your face into a chilling half smile and stare at your child, who will still be frozen with fear. Make sure to check the back of the device, where the arrow is pointing, as this area is very brittle and, in fairness, poorly made. You'll notice that in this instance the parent has accidentally punctured the floaty. A punctured floaty will only lead to a sinky child. Don't puncture the floaty.

EMERGENCY LANDING
This is very important. When it is established that an emergency landing is inevitable, make sure to jetison glasses, sandwiches, shoes, earrings and women. Each of these items are tremendously distracting to all pilots, and if they see one onboard while trying to land they will likely go into an apoplectic rage, and probably crash the plane on purpose.
If the person in the seat in front of you has been reclining their seat or rocking their seat while listening to music for the duration of the flight, now is a good time to get your own back. Shake the Hell out of the chair in front of you. You can always blame the turbulence.
With all the screaming and mayhem, even the best earphones will still leak in noise, so if you're having problems hearing your music, get those hands on your ears and squeeze.
Crawling is the fastest way to get around on a plane. That's a scientific fact. If the pilot somehow manages to land the plane in one piece, everyone should crawl in an orderly fashion to one of the exits. You'll be out in no time.

EMERGENCY EXITS
Briefcases, shoes and cigarettes must be left on the plane in the event of an emergency. Under Aviation Law, these items now belong to Ryanair. Look it up. Also, there are exits off the plane all over the place. You'll notice them as they look like doors. You may have even used one of these doors to get on the plane in the first place.

EXIT A DOORS
This is a door. We've covered doors. If you don't want to live on the plane, which is probably on fire at this stage so we guess you won't want to, you need to open this. The handle is the handle looking thing. Give it a shake and see what happens.
Once you've opened the door, a ghost will inflate and deploy the Fun Stairs™. You've been waiting your whole life to have a go on one of these, and guess what? Now it's Your time.
It is very important that when sliding down the Fun Stairs™ you grip your right leg with your left hand, and your left leg with your right hand. Actually we just put that in to see if you'd do whatever we said. Forget it. Enjoy yourself.

MORE DOORS!
If you have used your laser vision to start a fire on the plane, no exit for you.
Hey look it's another door. I wonder what you could do with this?
Oh the bright red pully down thing might open it. What do you think?
Wow. It opens out. It's like a giant window that you could get through and not be on the burning plane anymore.
Get off the damn plane.