It was a normal day. The Slipknot song blaring on the stereo alarm eventually bludgeoned me awake. I got up, had a cigarette, washed, sat, contemplated life, had a cigarette, and thought about, then decided against, breakfast. I looked out the window, gauged the weather, and dressed appropriately. I packed my bag, grabbed my keys, snagged my earphones on a door handle, cursed and threatened both the door and the earphones, and decided to treat myself to an elevator ride down the four floors to the front door. Be good to yourself…
I got into the elevator, pressed "G" (which stands for Granty when I'm playing pretend) and leant against the wall of the tiny space. I was paying little attention until something went wrong. Almost immediately the lift seemed to free fall briefly, and then it stopped dead. To my amazement I simply and calmly said aloud "well this isn't good". I pressed the Granty button again. I was no help. The digital display had changed to "–". Again, not good.
This wasn't the first time I had been trapped in an elevator. Some years previous I was unfortunate enough to be stuck in the elevator of a busy car park with a friend. I've put friend in italics because he would be the last person on my list with whom I would have liked to share this experience. It's not that he's a bad friend, or an asshole, it's because I knew he would delight in my panic. Sure enough, he did not disappoint.
When I realised we were stuck, a first for me, my mind began to pessimistically whirr: I can't believe I go out like this. I immediately started to search for a number to call, pressed whatever alarm button I could find, and had my phone out dialing for help. Within 30 seconds my friend had videoed me panicking, as he laughed, and had posted it to Facebook.
When the elevator fixer man eventually opened the door, there was space enough to crawl up and get out. Without asking, my friend climbed out first. He then turned his attention back to me, and, again laughing, started to shout "you better hurry up, this thing might chop you in half as you are getting out". This was of course what I was thinking. Oh how he laughed. This is a grown man with a wife and 2 children. Here's a sample of his work…
Dingus laughs as I try to save both of our lives
Well this time I was the only occupant of the tiny space, which to be honest wasn't really any better. Just me alone with my thoughts. I knew the drill. Find the number, ring it, wait for the elevator man and relax. But the dark thoughts were swarming like bats. I immediately began to imagine drastic escape plans.
First thing first; there is never an opening in the ceiling of an elevator. I don't know if 80s action movies made the industry change their practices, or if they were never a thing, but I have never seen one. Even if there had been one, I very much doubt I had the upper body strength to pull myself up without someone else's help. Furthermore, what would I do then? Climb up the cable? No good would come of that. I did not dare to try and pry open the door at this early stage, lest that trigger some dreadful freefall fail safe switch which would, well, kill me.
But would it? I was only 4 stories up. I remembered reading that in 1945 a plane accidentally crashed into the 79th floor of the Empire State Building. A woman named Bettie Lou Oliver was an elevator attendant and was injured in the crash, thrown from her elevator car and suffered serious injuries. Bettie is either the luckiest, or most unlucky person on the planet, because she was patched up and put in another elevator to head to the ground floor to receive further treatment. Guess what happened?
Yup, the crash had ruined the cables. They snapped, causing Bettie to plummet to the Earth for roughly 80 stories. However they say the 300m of elevator cable, which had snapped, coiled at the foot of the shaft cushioning her fall, aided by some sort of sudden compression of air, and she walked out of the wreck. Now either the coil and air saved her, or she was a witch. I'm unsure, I'll have to research her further, but I'm pretty sure she was a witch and the plane deliberately tried to kill her, as planes are known to scare the bejesus out of witches. Everybody knows that.
Then there is the old "jump before the elevator hits the bottom" trick. I know, I know, physics says that both you and the elevator fall at the same speed, meaning you'd have to jump up faster than the speed at which the elevator is descending, but I figure I'm pretty springy. Also, how fast could the elevator be falling over 4 stories? Alright, pretty fast. Fuck. I needed to get out of that elevator.
So I found a number on a plaque on the wall, took out my phone and dialled.
Woman – Hello?
Me – Hi. Eh, I'm stuck in one of your elevators.
Woman – What? Sorry you're breaking up.
(I moved to my tippy toes, don't know why, closer to the satellite maybe, and pressed my head against the door, again, I don't know how I thought that would help).
Me – That's because I'm stuck in one of your elevators!
Woman – Oh, you're stuck in an elevator?
Me – Yes!
Woman – Sorry?
Me – Jesus… Yes, in your elevator!!!
Woman – Ok Sir, what building are you in?
Me – I'm in BLANK on BLANK street.
Woman – Ok, let me loo…..
Signal went dead. I cursed as loud as I've ever cursed and punched the phone, only realising after the punch was thrown that I really needed it. I dialled again, cursing.
Woman – Hello?
Me – Hello I was cut off, I'm stuck in a lift on BLANK street.
Woman – Oh yes. I'll just have a look……..Did you say BLANK street?
Me – Yes. BLANK building on BLANK street!
Woman – Em, where did you get this number?
Me – What? It's on a plaque on the inside of this metal box in which I'm currently trapped.
Woman – That's weird.
Me – Why is that weird?
Woman – You said BLANK street?
Me – (Rage swelling up like a tidal wave) YES!
Woman – Eh, we don't service any buildings on BLANK street. And you said the number was on the wall inside the elevator?
Me – Oh Jesus. Yes. Look I'm stuck in here and it says to call your number if something happens.
Woman – Well we don't have a contract with your building. It's very strange. Look I will ring one of our technicians and see if they are close.
She took my number and said she would have a guy call me. So I waited, and my imagination ran riot. 
It was then that I noticed a button which had an alarm bell symbol next to it. What the hell. I pushed it and it rang like a doorbell. So I rang it again and again. Then I punched it, and gave up. I went back to imagining the ways in which I could die, or worse, what if I really needed to go to the toilet? Then I heard a voice. Someone outside the elevator obviously heard my cursing or alarm bell pressing.
Man – Hello. Are you stuck?
Me – Hi. I am indeed.
Man – Do you need me to call anyone?
Me – No. Thank you. There should be a guy along soon.
Man – Ok. That elevator is terrible. I rang the management company about it only last week.
Me – Is that so? 
Man – Yeah someone got trapped in there for an hour last week.
Me – That's not good.
Man – Ok so. Good luck.
Me – Thanks.
Man – Bye.
Me – Bye.
Easily one of the weirdest conversations I am ever likely to have. What could he do? At some point he had to leave, knowing I was stuck inside. I felt like an animal in a zoo. Have you gone up to talk to the poor guy who lives in the elevator? Oh you must. How he keeps going is beyond me…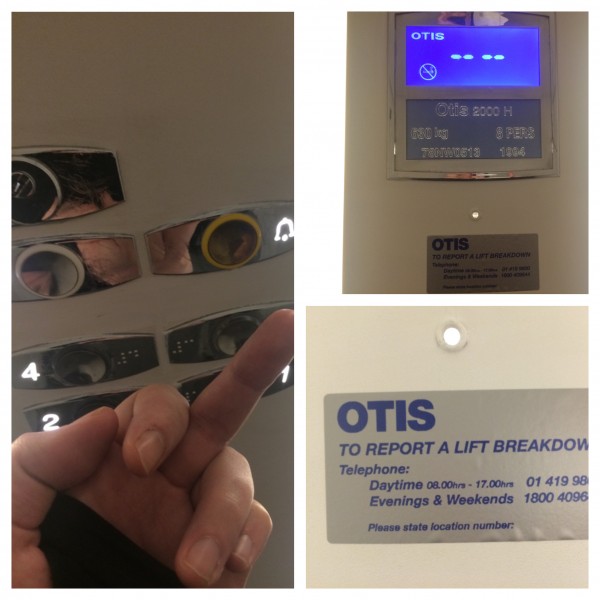 Otis the elevator being utterly useless on every level.
After about 45 minutes I got a call from the elevator man. He had no clue where he was going. It took maybe 4 calls to finally get him to the building, and during each one of these calls he repeated the phrase "this isn't even one of our buildings". He did however say "look, I suppose I'll come and get you out, but this isn't even one of our buildings…" I was now 90% sure his company did not service our building.
He then rang again asking me to get him into the building. I explained I was STUCK IN THE ELEVATOR. Not knowing my neighbours I had no one I could ring to let him in. So, he had to wait until someone randomly went in or out. It took 30 minutes. I was apoplectic knowing he was outside and I was still stuck. Then I heard his voice. 
I had been imagining a daring rescue, perhaps some sort of action movie escape from my prison, a rope, grease on my face, danger and high drama. Imagine my surprise when the doors opened and the lift had stopped perfectly at the 3rd floor. The elevator man just forced the fucking doors open.
I felt like a goon. The man once again said something about his company not servicing yada yada yada, and so I showed him the plaque on the wall with his company's number writ large. He looked at it and simply said "well that's just a lie". I thanked him profusely and felt obliged to pay him for his efforts, which he gladly accepted. 
I had a mind to write the management company a scathing email demanding action, and some sort of compensation for my troubles, but when I got home that night the elevator was working once again, so, you know, meh…