My mind had tied up Reason and locked her in a room. My imagination tried to convince me, in her absence, that my training was merely "unorthodox" and akin to Rocky's back to basics approach in Rocky 4. The message was tasered into my head with increasing regularity the closer we got to race day. However, I could still make out Reason's faint shouts. It was difficult to make out the whole message, but it sounded like " You haven't trained you idiot. You fucking idiot. You stupid fucking idiot"
Well the race was a week away and there was nothing I could do. I certainly couldn't all of a sudden start training really hard. Psh, that might leave me exhausted for the race. As long as nothing bad happened before the day itself I'd be ok. So of course the Universe saw fit to lob a shit grenade my way.
A week before race day I began to notice a tooth ache. I ignored it, until it screamed for attention. I went to the dentist and, of course, it turned out to be an abscess which required an emergency root canal. When it was finished I told the dentist that in a few days I would be down in Kerry participating in my very first Triathlon.
"Ha. Not like this you're not".
"Doc, the tooth is fixed. It's my legs I'm worried about. Can you root canal my legs?"
"No. But teeth and health wise, you have to take antibiotics for a week. You could catch an infection from swimming in the sea, which would be bad".
"No chance. I won't be putting my face in the water. Don't you worry about that".
"This is a really bad idea".
"This whole thing is a bad idea".
My preparation was complete. It was time to Triathlon.
Race Day
We were competing in the Valentia Island Triathlon. The Island, which is off the coast of Kerry, is home to some stunning scenery, however there are much more enjoyable ways in which to take in its splendour than wheezing in a sweat fit hoping for a mercy injury somewhere upon its picturesque roads.
Although the morning started with that nervous giddy energy that only fear can conjure, that all dissipated once I had to shoe horn my limbs and folds into a wetsuit. There's nothing quite like seeing yourself in a wetsuit to disavow you of any notions of being in good shape. You can't suck in your gut, there's simply nowhere for it to go. A wetsuit is a clingy Columbo who follows your every contour clue "… oh just one more thing, how did you squeeze all this mess in there?"
We brought our bikes to their parking spots (I don't know the terminology and I don't give a shit) which meant I had to walk past row after row of lightweight expensive racers and pretend not to notice the condescending looks from proper Triathlon athletes, or triathletes, or assholes. My bike was a sturdy (read heavy) commuter bike with, I imagine, at least several gears. It also had some extra weight in the form of a large padlock affixed to the handlebars. The padlock was attached by a drunk friend at a party some months before, and because the key was lost that night, the padlock was now simply part of the bike.
We were herded onto a ferry that was to take us back to Ireland where we would begin our race. We would be swimming from a country to another place. In the open fucking sea. It was on this ferry, surrounded by happy, well conditioned triathletes, that Reason finally broke out of her prison, looked around, saw where I was, gave me the finger and walked away saying "I give up".
We were to be racing in two waves: the elites and the normies. I at least had the sense to put myself down as a normal racer, as there was no Drowning Risk category from which to choose. We stood on the beach as the elites took off, and the once calm sea became a mist of watery violence. Triathletes are to swimming as Orcs are to ballroom dancing. The slinky graceful pool swimming you see on tv doesn't work in the sea with waves and currents. So triathletes punch and kick the living shit out of the sea, and each other, to get from the start to the finish line. It's all splash and smash. And when 250 people start together, 250 maniacs that are actually trying to win, there is no quarter given. They drag each other back, swim over one and other and kick each other in the face.
I wanted no part of this maelstrom, and so I decided I'd let most of my group start before I began my swim. I sat with a friend in a couple of feet of water, allowing my lower half to acclimatise to the frigid temperature.
"Put your face and head in the water"
"Fuck no".
"It'll help you to get used to the cold"
"I don't want to get used to it. Why don't you get used to it? My head is staying dry".
Go. A similar rush at the front of the group, but far less cutthroat. Our group were just here to take part. There was an element of "please, after you" and "I'm sorry if I kicked you by accident". Because we're not animals and we hadn't forgotten that we live in a society. I waded into the water, and with a good deal of space in front of me I began to swim. I decided that I would swim overarm to start, and once I got tired I'd switch to breast stroke. Even with the discomfort of swimming with my head cranked up in the air, I began to catch up with the swimmers ahead of me, and then to my surprise, actually began to overtake some of them. It was almost as if some training helped me.
However this was less about me powering through the water and more about the fact that some of these fools were out here in the goddamn sea doggy paddling! I was passing by people who were obviously unable to swim. I felt like Poseidon. Then my arms got tired and I switched to breaststroke. The small waves were breaking over my face and I was taking on a lot of seawater, which I knew from science, wasn't great. Then my arms got even more tired and I switched to backstroke, well I lay on my back and kicked my legs. The waves gave me more to drink. I continued this stroke switching pattern, drinking seawater, feeling increasingly like I wanted to puke, and wondering if I had the energy to simply finish the swim.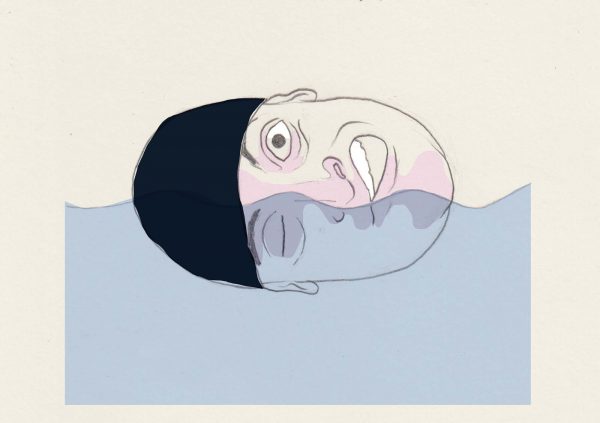 Up ahead I could see that people were walking out of the sea on a manmade ramp that disappeared into the sea (Again I don't know the terms but I figured it was slide for people to go down in their boats for fun). From around the 650m mark I kept stopping to see if I could touch the ramp with my feet. Swim, stop, check. Swim, stop, check. Eventually my toes found the ramp, and I mean the tips of my toes. And with that, my swim was done. I would walk the rest of the way. I walked on my toes with only my nose out of the water, until inch by inch I emerged from the sea like an exhausted Godzilla. All the while, people were sprint swimming past me giving me strange looks. The fools didn't even know they could simply walk in slow motion, half drowning, up this slippy ramp.
The well wishing spectators had gathered at the beach, and flanked the 200m passage down which we had to go in order to reach our bikes. People rushed by me, already unzipping their wetsuits like happy, multi tasking asshole showoffs.
I cut a pitiful picture, a wet scowling sloth lumbering along. My main concern was hoping I wasn't going to puke on the walkway and have one of the runners slip in it. Some people thought it would be a good idea to shout helpful words of encouragement at me personally. I tried to ignore them, but their bubbly entreaties just made me mad. I was cold, sick, tired. They were warm, dressed and were drinking pints. I envied their life decisions, namely not being stupid enough to take part in this torturous undertaking. So in response to their helpful instruction, I let them know of the hate I had for them.
"Come on, run!"
"You fucking run".
"You can do it!"
"Get fucked"
"Keep going!"
"Oh fuck you, you AND you".
The period between the swim and bike is called the transition. The elites already have their wetsuits off by the time they get to their bikes, and underneath they have a tight singlet which they wear for the remainder of the race. They throw their wetsuit away, put on their shoes, grab their bike and they're away. This all happens in seconds rather than minutes. My transition was not elite.
I didn't so much take off my wetsuit as wrestle it for several minutes while crying rage tears. My arms were like jelly from the swim and my hands were numb from the cold. Also, wetsuits are bastards. Once it was off, I had to have a sit down to compose myself as mania had descended upon me. I did not have a singlet under my wetsuit, instead I opted for boxer shorts, which were now, of course, completely saturated. So I had to change into new boxer shorts out in the open with a crowd cheering me on. I hid myself with a towel and changed. Next on was a pair of basketball shorts, and completing the athletic ensemble, was a House of Pain t-shirt, the sleeves of which I had cut off for better aerodynamics. Once dressed, I sat down once again to eat a Mars bar.
My transition time was about 14 minutes. 
I took my bike and started to walk out of the transition area when a race steward stopped me. He told me to properly fasten my helmet before getting on the bike or I would be disqualified. I stood there trying to coax the clasp into behaving for me, but my fingers were too numb to deal with something so fiddly and small. I tried over and over again, but the only thing that happened was I got incrementally more angry and unhinged after each failed attempt. Finally I stopped, thrust the helmet at the steward and told him either he did it for me or I was going home. I stood there like a bold child while "the man" fixed my helmet and told me I could continue. Fuck.
Once out of the transition area I began my cycle. I was happy to be out of the sea, and I was quietly confident this portion of the race would be relatively calm. For one, I'd be sitting down, so that was something. Secondly, my plan was to cycle for a bit, then freewheel, so I'd really only be actually cycling for 10k of the 20k distance. All of this positivity and route management went out the window 1 minute into the cycle.
I noticed that it had become very difficult to pedal. It was like I was stuck in mud. Plus I was out of the saddle, which was most definitely not part of the plan. I was cycling up a hill. In all my careful preparation I hadn't factored in the possibility of having to cycle upwards on an incline of any sort. In my daily cycling I did not have to deal with hills of any kind, and anywhere where there was a hill, I would simply walk. Why would someone choose to cycle up a hill?
I looked ahead hoping to see the ground level out, but all I saw was a turn in the road. Dotted along the route were stewards keeping an eye on us all. As I passed the first one, having gone about 1k, uphill, out of the saddle, red faced and struggling, the steward saw me and shouted "Keep it up. The road levels off just up ahead". Well thank fuck for that. I laboured on knowing that this hell was about to end and I could sit down and freewheel the rest of the way. However, I rounded the corner to find yet more hill as far as the eye could see.
I was immediately furious. That bastard had lied to me. My spirit sank, but the anger gave me a dump of adrenaline, and so out of spite I continued on. I found myself up, out of the saddle, wheezing, cursing occasionally, shaking my fist at the heavens, still not out of the possible puke woods. Up ahead I spied another steward. When I reached him he shouted "Nearly at the top. Just a little further". I breathlessly, and through gritted teeth shouted back "Really? Your mate back there said that ages ago…"
Another turn and yet more hill. I felt like crying, but then rage took over. This should be in the fucking brochure: cycle contains a fuck ton of uphill action. It's going to suck the fucking life out of you. I wanted to turn around and go back to the steward and abuse him verbally and physically. Then, off in the distance, I saw another person standing just before a bend in the road. This fucker would get it with both barrels.
"Well done. The climb finishes here. You're over the hard part"
"THAT'S WHAT THE OTHER 2 FUCKERS SAID. I SWEAR TO CHRIST IF YOU'RE LYING TO ME I WILL COME BACK AND I WILL DO PRISON TIME FOR YOU. YOU HEAR ME?! I WILL FUCKING RUIN YOU!!!
He was telling the truth. I had reached the top. I was elated. Stretched out before me was pristine flat and slightly downhill sections of road. My plan was back on. The sun was out and because of the elevation I was afforded an incredible view of the island and the sea. I was back on track, freewheeling along, gathering my strength back. The rest of the cycle, more or less a circuit of the island all the way back to the transition area, was either flat or on a slight decline. Seeing as I was only cycling to complete rather than compete, taking my time, I had regathered my breath and was no longer at risk of an exertion embolism.
When I reached the transition area, 2 of my friends, the actual triathletes, were standing there waiting for me. They had finished already, and had changed into their civilian clothes and both of them had pints in their hands. I still had the run to go. I hated them in that moment. Thinking of it again, I hate them now. Their words of encouragement sounded to my tired and angry brain like smug platitudes. So I cursed at them, dropped my bike off, and left the area to begin the final, and worst portion of the race; the run.
I was so close. All I had to do was tough it out. I could walk it if I needed to. All I had to do was…..RUN UP A FUCKING HILL. UP. A. HILL. Up the same fucking hill that destroyed me on the bike. What sick, sadistic bastard plotted this course? Why wasn't I made aware of this? I'd never run up a hill before. Why would I? Why would anyone? Hills are nature's way of telling you to slow down. I wanted to murder someone.
There was worse to come. We were to run to the top of hill running on the left hand side of the route, and then come down to the finish line on the other side of the road. So while I struggled on one side of the road, the people coming down towards the finish line would see me and shout encouragement at me as they passed. Now I understand there's a community feel to doing one of these races. Everyone is in the same boat and the normie participants (the elites would cut the achilles tendons of their fellow elites if they thought they'd get away with it) like to help each other along.
The thing is, I'm wired differently. I'm concerned with the hardships I'm being subjected to in that particular moment. If I see a smiling happy face that already has my hardship in their rear view mirror, I will hate them. They are in a better place than I. But I realise to tell them to stick their motivational bon mots up their holes, would not be in keeping with the spirit of the day, and so I would be shunned.
And so I pretended not to hear them, and I cursed them in my head, secretly hoping they would trip as they looked pitifully at me. I was not in a good place. My shins ached. I'd never felt that before. I had no oxygen in my body and I was now down to jogging for 30 seconds and walking for 2 minutes. Plus, the only reason I was even attempting to run at all was simply peer pressure. I was being overtaken by septuagenarians and people missing limbs.
I reached the top of the hill and began my descent. I was exhausted. Almost too exhausted to be angry. Almost. I thought downhill running would be much easier, but when I attempted it the muscles in my lower legs felt like they were going to burst through my shin bones and so I stopped for fear of leg explosion, which would result in ruined legs and me definitely sliding down the road on my teeth. I did not want this to happen. So I chose a brisk walk.
The finish line was in sight. Soon this torment would be over. The road was levelling out and about 200m out I spied my triathlete friend beside me on the road. He started to goad me into sprinting to the finish line, and began to run alongside me. I didn't want to do it, but then I saw someone about 50m ahead of me, and a switch clicked in my head.
I'd noticed this person earlier in the run, when she overtook me on the hill. She was around 50, as much of a non athlete as I was, well better than me obviously, but I took an instant dislike to her because of what she was wearing: a cowboy hat.
I wan't about to let someone who does a triathlon wearing a cowboy hat beat me. Plus it was altogether possible that I was in last place, and beating Annie Oakley here was my ticket out of that dubious distinction. So I ran. I ran like I was running from Frankenstein riding a T-Rex holding a gun filled with spiders. I caught up with Calamity Jane, who despite being as unfit as I was, had a smile on her face like she was having fun. Inconceivable.
I narrowly beat Claire Eastwood and collapsed over the finish line. It was over. I had survived. Nobody cheered when I finished, but seconds after me the gathered crowd roared when Jilly The Kid arrived. She was exhausted but delighted. I had crossed the line grinding my teeth and scowling, my face simply saying "fuck this place and all of you". I did not embody the spirit of the triathlete community. This woman did, and they loved her for it. I still think about her. She was a triathlete. I was simply me, doing a triathlon. I still don't like her, but Goddamnit I respect her.
I found my friends, sat down, and within 5 minutes I was drinking a Guinness and having a cigarette. I was back in my comfort zone and I would never ever have to do anything like this again.
Epilogue
After the race, I went to my spot in the transition area to gather my things, somebody had taken my wetsuit. I had paid about 150 Euros for it and worn it one time, for the swim portion of the race. When I got home, my friend managed to track it down and put me in contact with the man who had mistakenly taken it. I emailed him and arranged to get it back. But when the day came, it was raining slightly and I didn't fancy cycling across the city to meet him.
I still don't have a wetsuit, and have no plans to buy another.
P.S. Below is photographic proof of the whole debacle. Pictured in this post race photo you'll see an actual triathlete and a shambles.