We need a boogie man to keep the congregation in line.
You Mean a bogeyman?
What'd I say?
Boogie Man.
Shit. Yes. Of course. Bogeyman. A Boogie man would be wholly inappropriate.                                                                                                                                                       
For the first few hundred years of Christianity, the church didn't seem to need to use their Bogeyman in order to put the frighteners on their congregation. Paganism was still in practice in many corners of the globe. Pagan Gods of all shapes and sizes came to represent types of Demons, in whom Christians saw the personification of evil, and scapegoats for all the ills of the world. The church used these "false Gods" as a means to smear other religions, and so they came to be known as "Satanic"
As Christianity spread, Paganism began to vanish, and with it, its numerous Gods. Out of sight, out of mind. If nobody talks about a God, it simply ceases to be. Gods live in our imaginations, and if we no longer think about them, they slink off into the dusty archives of our minds. Anubis, Set, Bes, Thoth, Zeus, Cronos, Apollo, Mars, simply dissolved away from the collective consciousness as Christianity became the dominant religion in the west. So Hipsters, if you really want to go retro, start worshipping Anubis. You'll be the talk of the olde timey bicycle & pork pie hat shop.
Emperor Constantine married the best of both worlds in The First Council of Nicene in 325AD.
Having one unified religion in the west would make things easier and stop infighting and tribalism. Christianity seemed to be the obvious choice, and so Constantine went to work consolidating all aspects of modern Christianity in a way that would appeal to the masses. And you really didn't have a choice about it.
(A focus group of Pagan religious leaders are gathered in the Emperor's Palace. Emperor Constantine addresses them, flanked by his advisors and priests)
Constantine – Thank you all for agreeing to meet today
Pagan 1 – *Cough* We were forced…
Constantine – What?
Pagan 1 – What?
Constantine – Ok. Let's start again. Christianity is our new official religion, and we want to make sure that all of the concerns you Pagans might have will be put to rest. So we want to know what you like best about Paganism, and we'll show you how awesome, AND curiously similar, Christianity is. You there, what do you enjoy?
Pagan 2 – I like the Winter Solstice.
Constantine – When is that?
Pagan 2 – End of December.
(Constantine confers with his advisors for a moment)
Constantine – Well you won't believe this, but that's when Jesus was born! We celebrate his birthday on, oh, let's say the 25th December? That work?
Pagan 3 – Who's Jesus?
Constantine – He's the son of God.
Pagan 4 – Not God then?
Constantine – He's God too. Look it's a whole thing. We'll work it out. Ok, what else do you like?
Pagan 5 – I'm a follower of Ishtar. I enjoy her festival, and, of course, all the eggs.
Constantine – Eggs?
Pagan 6 – Yes. Eggs.
(Constantine confers with his advisors once again. There is a lot of conferring. Finally he addresses the crowd.)
Constantine – Ok. That's in March right?
Pagan 5 – Around then.
Constantine – Well we have this thing called Easter, and that happens at the same time!
Pagan 7 – What's Easter about?
Constantine – Well it's about Jesus getting killed…
Whole Pagan Crowd – HE'S DEAD?!!?!?!
Constantine – Let me finish! … and then he resurrects on Easter Sunday.
Pagan 6 – What about the eggs?
Constantine – Again with the eggs?
Whole Pagan Crowd – Eggs! Eggs! Eggs! Eggs!
Constantine –  ALRIGHT ALRIGHT. Yeah, sure, we all give each other eggs on the Sunday.
Pagan 8– Why?
Constantine – Oh I don't know, because Jesus loved a good egg. Look, let's move on…
Over the next few hundred years depictions of God morphed from a buff and shiny faced Apollo clone, a warrior God, all youthful sinew and ferocity, to the fatherly, bearded and wise Zeus archetype we know today. By the time the Middle Ages came around, Jesus had morphed into the groovy Jim Morrison Jesus we're familiar with. Oh, and because this was all taking place in Europe, he was obviously the whitest Jesus ever born in the Middle East.
But what of The Devil? Where was he? Well, he got himself a facelift too. Once Christianity was firmly established, the church decided to bring him back to scare the bejesus into people that were fixing to disobey the church. The problem was the only mention of Lucifer's actual appearance in the Bible, was that of "the hottest angel", well they put it slightly differently, but the sentiment is the same. Again, devilishly handsome.
A ludicrously handsome bogeyman just wasn't going to cut it. So they took parts of Pagan Gods and more or less mixed and matched until they had themselves a Beast. The cloven hooves, were taken from Pan, the horns from various Gods in the East, the Devil's trident/pitchfork taken from Poseidon and the lasciviousness and debauchery from the Fun Bobby of Pagan Gods, Bacchus, God of Wine.
And where do we begin to see depictions of this horrid creature? In art. Artists, many of whom were devoutly Christian, were tasked with creating paintings depicting all the nasty things Satan could do to you. If you are scared of the Devil, don't be. Our ideas of Satan come not from the Bible, but from the imaginations of artists. Regular humans much like you or I, who were manipulated by fire and brimstone sermons. This is where we get all of our visual references to the fire and torment of Hell. So let's everyone relax.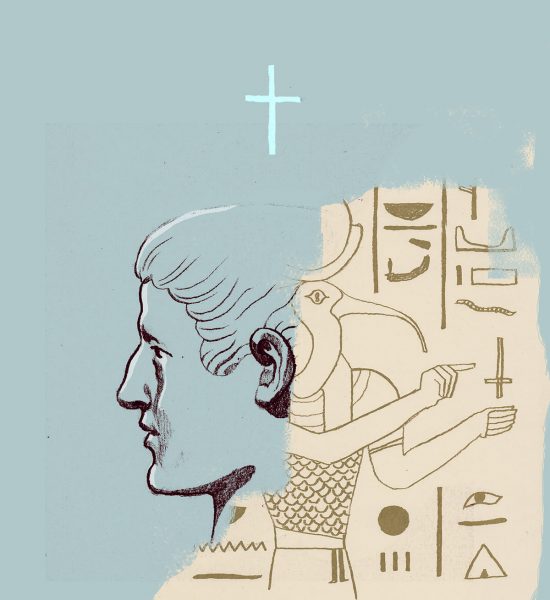 Dante's Inferno and Milton's Paradise Lost are still the biggest examples of depictions of Hell and Satan that we automatically take as straight up Christian fact. They are not. It is simply art that has passed into our collective consciousness, and given priests a style guide for their more aggressive pulpit bluster.
Priest – (runs into Cardinal's office, panting) You've got to read this.
Cardinal – Ugh, more reading? You know how many Gospels I have to study before tomorrow's mass?
Priest – This changes everything. This Dante chap has basically given us a tour of Hell!
Cardinal – Wait. What?
Priest – He says that there are 9 circles of Hell, and you pass through the lot of them to get to the Devil.
Cardinal – How the hell does he know this? Who is this joker?
Priest – He's a poet.
Cardinal – Psh. He's not even a priest.
Priest – It scared the shit out of me. If I wasn't already a priest, I'd join up tomorrow.
Cardinal – Really? 9 circles you say……
Along with poetry, paintings served up an even more elemental snapshot into the torment of Hell. Step forward Hieronymous Bosch. His incredible painting, The Garden Of Earthly Delights, still has the power to scare the bejesus into us. This Hellscape is now believed by some critics to simply be a product of his time, in that some scary ass priest ranted and raved about what went on in Hell every Sunday, and he simply tapped into that. On the flip side, he could have also been crazy. You decide. Either way, he was a man, living in the 16th Century, who didn't have the internet, and would have thought you a God if you showed him your Zippo lighter. Who am I kidding, if you did the robot for him, you could have probably convinced him you were the Messiah.
(Here you will find an educational interactive version of the painting, where the different scenes are explained. Hell is depicted in the panel on the right).
SATANIC PANIC
The idea of an active Satan walking amongst us, tempting us, and cheerleading people doing bad things, began to take root. It was not long before the church saw an opportunity to simply use this as a means to brand people as followers of Satan.
The Crusades Etc.: They're totally messing with Jesus' shit over there in foreign, their skin is weird and their God is probably Satan or whoever. My cousin's friend said he saw this one guy with horns. Horns! Go over and show them how Holy God is. Yes, kill them all. Look Mike, it's called being a good Christian…
Salem Witch Hunts – These bitches were answering back. Seriously, answering me back. Also that one over there has a cat. A black one! Also, despite my obvious good looks and charm, that one over there won't go to the barn dance with me. I know, right?!  And I think I saw her cursing my crops. Let's try them all by ordeal, but let's make sure that both possible outcomes result in them being killed, just to be safe.
Hermetics, The Templars, The Masons, The Adamites and a plethora of other breakaway groups and societies, who decided to interpret the Bible in their own way, or simply rebel against it, were eventually deemed to be involved in Satantic rituals and actively pursued. Basically, any group that had the temerity to interpret scripture on their own, or deviate from the mainstream as it were, were the enemy.
Groups and societies like The Hellfire Club, used Satan and Hell as the ultimate symbols of rebellion, thumbing their nose at Christian society. These societies were populated by rebellious types who wanted to get wasted, get laid and act in a way that the oppressively puritanical Christian society of the day would have condemned. There were no child sacrifices, or blood letting. These were toffs and intellectuals (Benjamin Franklyn is said to have frequented the club during his time in London) who sought knowledge and pleasure, two things not in keeping with the way the church would have you live your life. Abstinence and blind obedience are so much better for keeping a populace docile, fearful and easily manipulated.
Once again, the subtext one can glean from this, given the Bible's teaching, is that God does not want you to seek knowledge, he simply wants obedience; Lucifer, The Light Bringer, wants you to seek knowledge.
Hey Eve, where you at?
In our own lifetime, we had a ludicrous example very recently, where Heavy Metal bands were accused, by puritanical, powerful Christian types, of leading astray people's sons and daughters. The Satanic Panic, ensured that the likes of the West Memphis Three were convicted of murder, primarily because they were into Metal music and dressed in black. Marilyn Manson was blamed for the Columbine school shooting, because of how he looks and his music. In fairness it must have been that and not easy access to automatic weapons. The parallels between Salem and these kind of, ugh, witch hunts, are as obvious as they are ridiculous.
So what of actual Satanists? Are there people out there worshipping the Devil? Sacrificing animals and children to the Dark Lord? Well hold on to your brain hats, because some of you may find yourself identifying as a Satanist after you read on…
THE CHURCH OF SATAN
There are many different forms of Satanism being practiced in the world today. And none of them are what you think. We have been conditioned since birth to equate "Satanic" with olympic level evil, through your church, the media, movies and TV. The common thread through all Satanic religions is the power of the self.
The only strand of Satanism that actually believes in the Devil as an entity, as a living God, is Duo Theism. These maniacs believe in the Christian Bible, but simply choose to follow the bad guy. I'd give these folks a wide birth. They sound essentially like puritanical Christians, but in reverse, which just can't be good news for anyone.
Most other forms of Satanism are primarily atheistic, in that they don't believe in God, so it stands to reason they don't believe in Satan himself as an entity. Makes sense, right? Instead they use Satan as a defiant symbol, which can come to represent Enlightenment, Rebellion, Pride and Individualism. They do not perform sacrifices, as they do not believe in supernatural beings, so to whom would they be sacrificing anything? 
Of the many forms of Satanism, The Church of Satan is the most famous. Founded by Anton Szandor LaVey in 1966, it put the groovy back in religion. The Church is the first documented organised religion, in which Satan is the figurehead, in recorded history. So any stories from history you hear wherein a tribe or a people are branded as Satanists, is utter bullshit, and is simply history being informed by the all powerful Christian Church.
LaVey was a mainstay at Hollywood parties in the 60's and during this time. Charismatic and PR savvy, people wanted to rebel and this sharp dressed showman was able to tempt people towards his new religion. Membership boasted many celebrities, among them Sammy Davis Jr. and Jane Mansfield. I'm not making this up.
The Church of Satan believe in the power of the self, that you are your own God, and as such they could be described as I-Theists. Self actualisation and setting and achieving goals are of paramount importance. A devotee can use personal rituals to achieve their goals, but these are simply emotional mind exercises in which you project what you want from the world. Basically be your own Conor McGregor. You're not here to take part, you're here to take over. There is so much to read on their superb website, and I would ask you to go and have a look through their fascinating FAQ section.
I leave you with The Church of Satan's Eleven Satanic Rules of The Earth. Why? Because it'll be fun for me to know that a lot of you will agree with almost all these Satanic principles.
Do not give opinions or advice unless you are asked.
Do not tell your troubles to others unless you are sure they want to hear them.
When in another's lair, show him respect or else do not go there.
If a guest in your lair annoys you, treat him cruelly and without mercy.
Do not make sexual advances unless you are given the mating signal.
Do not take that which does not belong to you unless it is a burden to the other person and he cries out to be relieved.
Acknowledge the power of magic if you have employed it successfully to obtain your desires. If you deny the power of magic after having called upon it with success, you will lose all you have obtained.
Do not complain about anything to which you need not subject yourself.
Do not harm little children.
Do not kill non-human animals unless you are attacked or for your food.
When walking in open territory, bother no one. If someone bothers you, ask him to stop. If he does not stop, destroy him.
 Let's just put it in terms of music. You could align yourself with AC/DC, or with this…